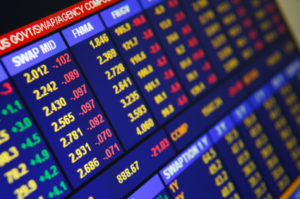 As your organization decides how to manage interest rate risk on an upcoming loan or portfolio, Cardea Partners provides structuring to meet your unique risk profile and get you the best price.  Whether you need to establish a bidding platform to engage several trading counterparties or are negotiating directly with one institution, our experience at Cardea Partners puts you on a level playing field.  We bring sophisticated models and real-time pricing to create full transparency, which saves your organization substantially over the long term.  Every detail and basis point have an economic impact with a swap or other hedge, and we make sure your interests are truly served in the process.
Many commercial banks have made it common practice to include a mandatory hedging requirement as a pre-condition of obtaining a credit facility for borrowers.  This specification generally details the percentage of the financing that needs to be hedged as well as the term of the hedge.  Some banks have also taken the added step of imposing additional conditions, either by restricting the type of interest rate hedge the borrower can execute or by restricting the institutions that can provide the hedge.  These limitations not only influence the efficacy of the hedge, but impose additional costs on the entire deal.  Borrowers do have choices and there are laws that restrict banks from tying certain products and services.
Mitigating interest rate risk has clear benefits for both lender and borrower, but banks have shifted the burden of risk management onto the borrower's shoulders.  If your organization is required to hedge, the principals at Cardea Partners can identify a full suite of options available in the marketplace and can help you identify the most flexible, cost-effective solution.
The suite of products available to protect against market risk is expansive.  Whether your exposures lie with the movement of LIBOR or Prime or the price of diesel fuel, Cardea presents our clients with choices to manage risk.  The swap market may be the best option to fix an unknown exposure, or the purchase of a protective option such as a cap may better suite your organization's needs.  To learn more about the risk management tools available, feel free to contact Cardea Partners.  Our job is to manage execution of your hedging transactions in realtime and get your firm the best available pricing.
Cardea Partners knows that organizations face many important interest rate risk management decisions after a hedge has been put in place.  Tracking mark-to-market values and establishing a contingent exit strategy for an existing swap are critical issues.  We provide the independent valuations and reports that your auditors require.  Many swap dealers believe that terminating client business should be highly profitable.  Because of this tendency, Cardea counters with a comprehensive suite of existing hedge services to ensure our clients have the information needed to efficiently close out, amend, or maintain a hedge.
Thoughtful and accurate hedge structuring is instrumental for an organization to achieve the most advantageous accounting treatment with any given transaction.  We match your terms for effectiveness and can help negotiate the loan specifications to make accounting issues more tenable.  Cardea Partners uses proprietary accounting software to perform effectiveness testing and generate quarterly or year-end reports for your auditors.
Cardea Partners is qualified to handle your derivative transactions .  The underlying debt might be a real estate construction loan, a revolving facility, or a term loan.  Our professionals have held positions of influence at major financial institutions and structured deals for medium and large corporates alike.  We possess the necessary perspective on a wide variety of issuance types and accompanying hedge structures to serve your organization.  The flexibility to use a broad tool box of hedging products for a given debt scenario allows for the most effective and cost efficient means of risk management to be applied, and Cardea can independently help you explore these alternatives.
As part of our pre-execution services, Cardea Partners offers to review and negotiate the ISDA and other relevant hedging documentation for our clients, including credit support annexes, personal or corporate guaranties, mortgages, assignment of rents and leases, pledge agreements, deeds of trust, and letters of credit.  Cardea Partners also is skilled at negotiating novation documentation, a vital step for existing swap users when transferring their bank relationships.  ISDA's Schedule to the Master Agreement is the most important document for hedgers, and should be a balanced document relative to both parties.
Establishing or modifying a hedging policy may be the most important issue your organization faces.  The structure of any policy will dictate future hedge structuring and execution while defining appropriate structures based on the risk profile.  Cardea Partners works with private and public sector organizations to create effective and relevant risk management protocols.  Cardea Partners uses a comprehensive approach to analyze and build the appropriate policy for your entity:
Onsite meeting with key decision makers
Presentation of findings of your organization's existing procedures relative to potential needs
Hedging policy template crafted and presented for board approval
Ongoing services to keep our clients informed of key changes in the regulatory environment
Considerations when building a hedging policy
• Purpose and Scope (organizational needs, appropriateness, product breadth, key decision makers)
• Structural Risks (amortization, basis, credit , counterparty, refinance, tax, termination)
• Solicitation Methods (bid process vs. negotiation, collateral requirements, use of advisor)
• Reporting (documentation owners, frequency, accounting, schedule of policy review)